Text
Flag as inappropriate
10 reasons for India's Champions trophy loss in 2017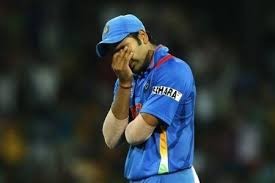 ​
When a team wins a match, it may be due to some noteworthy contribution. And when a team loses it is due to a lot of reasons. These are some of the reasons of utmost importance.There may be other reasons as well.
1. An unpredictable knock from Fakhar Zaman who had just played almost 3 matches with just two fifties to his credit apart from the match winning knock of 114. Despite being out on a no ball he was certainly considered to be quite lucky.
2. When a particular player has issues with his fitness, he should be and must be given rest or should not be in playing eleven. Ravichandran Ashwin was wicketless in previous match and also in this match losing final. There are chances that he might be injured.
3. A lacklustre bowling Jasprit Bumrah proved costly. Specially those no balls cost him the match. Fatigue could be a reason
4. With Mohammed Amir already guessed to be India's fearing factor. Rohit Sharma did a terrible mistake which cost him a duck.
5. A pretty ordinary batting from Ms Dhoni, India's once greatest batsman. struggling to show.
6. With track said to be aiding the one who batted first, Virat Kohli made a terrible mistake of chasing.
7. The missing of the super hero of last edition's Champions Trophy, Ishant Sharma. There was no lead pacer or an experienced pacer like Ashish Nehra or Umesh Yadav or Mohammed Shami
8. Once Again Mohammed Amir proved he is back in his best. With this match, he added another feather in his cap.
9. Hardik Pandiya's unlucky 76 ended up as a fizzle. He was only Indian hero in the match. He has lot of places to go after this match. He played like a lion caught in a blizzard.
10. Last but not least Pakistan's Indomitable spirit against the overconfident India.
Though India may lose, they will come back hard next time.
​
0 Relays