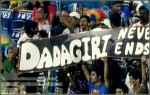 Link
Flag as inappropriate

sports.ndtv.com
The 71-year-old Scot enjoyed an emotion-charged farewell in Manchester United's 2-1 victory over Swansea City at Old Trafford on Sunday, his last home game after more than 26 years in charge of the new English champions.
Dada Army has added a note -
Sir Alex Ferguson decided to retire to spend more time with his wife, who he describes as his pillar of strength. All hail the legend! Thanks for the memories.
0 Relays