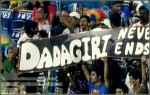 Link
Flag as inappropriate

www.wisdenindia.com
The Indian Premier League (IPL) takes centre stage this month and what better than a quiz spanning all five seasons so far for the fans to Test their mettle and earn bragging rights.
Dada Army has added a note -
Test your IPL knowledge in this quiz. Since the flavour is of T20s, there are 20 questions. How many can you get right? Click the link and take the test!!
0 Relays