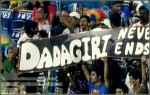 Link
Flag as inappropriate

ibnlive.in.com
Kolkata Knight Riders skipper Gautam Gambhir said his KKR supporters were 'more loyal' than the fans of Delhi Daredevils, which was his previous team, in the Indian Premier League.
Dada Army has added a note -
Gautam Gambhir believes fans from his home city need to be a little more mature and 'loyal'. Do you agree?
0 Relays