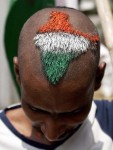 Link
Flag as inappropriate

www.hindustantimes.com
Even as Tamil Nadu was unanimous in its opposition to Sri Lankans participating in the Indian Premier League (IPL) starting April 3, Bangalore police commissioner said he won't be able to provide security cover for cricket matches in view of assembly polls on May 5. HT reports.
Yogesh has added a note -
Another Bombshell in the waiting? Everyone wants a piece of the IPL pie.
0 Relays