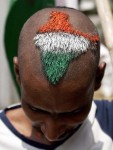 Link
Flag as inappropriate

sports.ndtv.com
During IPL 5 the South African cricketer took a small break to propose his girlfriend Danielle Swart at the Taj Mahal, which is one of the most romantic places on the earth.
Yogesh has added a note -
Sweet start to the IPL. Hope the IPL honeymoon continues for him!
0 Relays