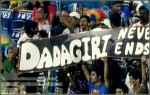 Link
Flag as inappropriate

sports.ndtv.com
South African star all-rounder is upset with his form in the Indian Premier League. He writes that it is unfair to deny a chance to a 'performing' cricketer who is better than him to play for South Africa in the Champions Trophy in UK next month.
Dada Army has added a note -
Is it fair for Kallis to skip national duty due to poor form in a domestic T20 tournament such as the IPL? Tell us what you think.
0 Relays