Text
Flag as inappropriate
India's Quest for Gold Finished: Gagan Narang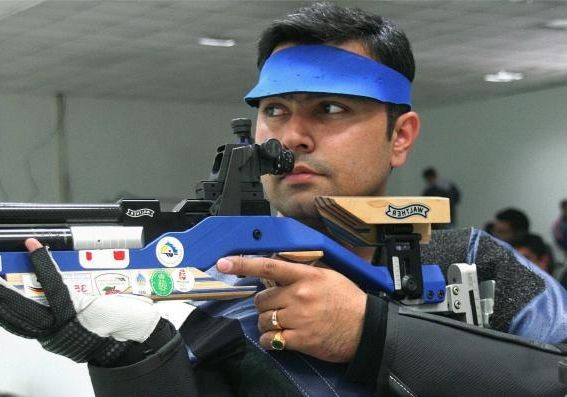 India's Quest for Gold Finished: Gagan Narang. Gagan Narang Indian shooter, in Air rifle shooting. He was the first Indian to qualify for the London Olympics. He won the Bronze Medal in the Men's 10 m Air Rifle Event at the 2012 Summer Olympics in London with a final score of 701.1 on 30 July 2012. Gagan Narang is a gold medalist in the Afro Asian games, 2003 in Hyderabad on 26 October 2003 in Men's 10m air rifle competition.
He had won an air rifle gold medal at the World Cup 2006 and followed that event in April 2010. In a pre-Olympic event in Hannover, Germany, Gagan shot a panis air rifle score higher than the world record, 704.3 as opposed to 703.1 set by Thomas Farnik of Austria in the World Cup 2006. Gagan qualified for the 2008 ISSF World Cup Final after he won a gold in the World Cup in China earlier in 2008. Gagan shot a perfect 600 in the qualification round. He scored 103.5 in the final round making total score of 703.5 to gain the universe record. On 4 November 2008 he broke Austria's Thomas Farnik's record, set in the 2006 World Cup final in Granada, Spain. Gagan said his win was special because Barack Obama, who won the United States' Presidential election on same day, was a source of inspiration. Gagan Narang added 4 gold medals to the Indian tally at the 2010 Commonwealth Games in New Delhi.
In the Men's 10 m air rifle singles event, he shot a perfect 600 which was a new record. Gagan also clinched a silver medal in his pet event at the Asian Games 2010. He also combined with Abhinav Bindra and Sanjeev Rajput to provide the country with another silver, in the team event behind champions China. Both of his silvers were won on the opening day of Asian Games. Gagan Narang won the bronze medal in the 10m air rifle event at the 2012 London Olympics with a total score of 701.1 becoming India's first medal winner at the 2012 games. In recognition with his achievements, Gagan Narang was conferred with the Padma Shree Award in 2010. Gagan Narang was selected for the prestigious Rajiv Gandhi Khel Ratna award for 2010. This is the highest sports award in the country.
0 Relays