Text
Flag as inappropriate
Viswanathan Anand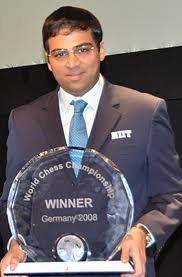 King of Knights and Rooks, Tiger of Madras, Padma Vibhushan, Padma Bhushan, Padma Shri, Book of the Year, Arjuna and what not…….. guess who's this mastermind.
Viswanathan Anand truly ruled Chess. He is an Indian chess Grandmaster and the current World Chess Champion. Anand has won the World Chess Championship five times (2000, 2007, 2008, 2010, 2012), and has been the undisputed World Champion since 2007. Anand was the FIDE World Rapid Chess Champion in 2003, and is widely considered the strongest rapid player of his generation. Anand became India's first grandmaster in 1987. Anand has won the Chess Oscar six times (1997, 1998, 2003, 2004, 2007, 2008). He held the FIDE World Chess Championship from 2000 to 2002, at a time when the world title was split. He became the undisputed World Champion in 2007 and defended his title against Vladimir Kramnik in 2008. He then successfully defended his title in the World Chess Championship 2010 against Veselin Topalov and in the World Chess Championship 2012 against Boris Gelfand.
Anand is one of six players in history to break the 2800 mark on the FIDE rating list, and in April 2007 at the age of 37, he became the world number one for the first time. Anand is the only sportsperson to have been invited for the dinner hosted by the Indian PM Manmohan Singh for US President Barack Obama on 7 November 2010. Anand's rise in the Indian chess world was meteoric. National level success came early for him when he won the National Sub-Junior Chess Championship with a score of 9/9 in 1983 at the age of fourteen. He became the youngest Indian to win the title of International Master at the age of fifteen, in 1984. At the age of sixteen he became the national chess champion and won that title two more times. In 1987, he became the first Indian to win the World Junior Chess Championship. In 1988, at the age of eighteen, he became India's first Grandmaster by winning Shakti Finance International chess tournament held in Coimbatore, India. He was awarded Padma Shri at the age of 18. Lubomir Kavalek describes Anand as the most versatile world champion ever, pointing out that Anand is the only player to have won the world chess championship in tournament, match, and knockout format, as well as rapid time controls. In an interview in 2011, Kramnik said about Anand: "I always considered him to be a colossal talent, one of the greatest in the whole history of chess".
1 Relay