Text
Flag as inappropriate
Why the 'triple punishment' rule should be abolished?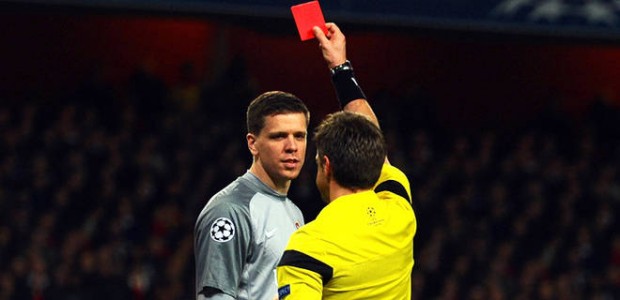 The "stupid rule'' of 'triple punishment' highlighted by two Champions League games this week should be changed soon. This is stated by UEFA president Michel Platini when he was talking in a news conference, nice ahead of the Euro 2016 qualifying draw.
What makes this 'triple punishment rule' such a pain it is? To find that out we must first know what triple punishment rule is. According to this rule currently, a player can concede a penalty, receive a red card for preventing a goal scoring opportunity and then be suspended for a single incident. The rule is so risky that it might discourage the defender of a team (for example) who is trailing an attacking player who is through on goal, to tackle him as he might fear of all three punishments will be imposed upon him if the referee finds it inappropriate. So the defender may think that he is best off just leaving the attacker alone and hoping that the attacker will miss his chance to score.
Even if the player does score, this still (on average) inflicts far less damage on the defending team's chances of winning the game than receiving a red card (and suspension) and giving away a penalty.
The suspension is particularly relevant when it comes to the knockout phases of the Champions League, in which the player will not only miss the remainder of the game in which he commits the foul, but also the second-leg of the tie, as we've seen with Demichelis and Szczesny.
The only time you should consider denying somebody a clear goal-scoring opportunity is if you commit the foul outside of the box, and you are deep into the second half of the match.
Being sent off and giving away a penalty can actually make a team up to four times worse off than just conceding a goal. In Manchester City's case, they would have stood a much better chance of beating Barcelona in the first leg if Demichelis hadn't been sent off. A 2-0 defeat could have been a 1-1 draw, or even a 2-1 victory for the Blues. If we consider Arsenal's case the club's manager felt that the referee killed the game but the referee had to respect this stupid rule.
So, denying an obvious goal-scoring opportunity has cost both Arsenal and Manchester City dearly in the Champions League this week, giving both clubs a mountain to climb in their respective away legs against two of the world's top sides. These things happening at such a crucial moment have instilled fear in every other team as there are chances that they can become victim to this rule at any time in the future games. This can be seen from the statements from Bayern's Goalkeeper Manuel Neuer who also called for an end to his rule even after winning against Arsenal.
Finally we just hope that there will be some action soon from the International Board to change this rule as both the technical committees of UEFA and FIFA are against it & we can hope to see more interesting games without such interrupting rules.
1 Relay