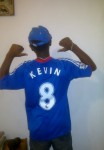 Text
Flag as inappropriate
United's Rallying Gaal
With David Moyes, The Unfortunate One gone, one of football's greatest seats of authority remained vacant.
But finally, the Ballsy One has come in and confirmed his spot as their new manager. The man after the man after the legend. The No-Banner One. The Winning One.
For after all, Van Gaal is a winner. 19 trophies including a 1994/1995 Champions League victory with an almost under-age Ajax team over Barcelona. He beat Bayern Munich 5-2 in the semi-finals. League titles in 3 countries in every team he's managed and the national managerial position are not the records of a normal manager.
And he knows it. Van Gaal's famous, "Congratulations on signing the best coach in the world" quote is something that would sound brash and arrogant if he didn't go on to win 2 European trophies and reach a final, as well as a hat-trick of league titles at Ajax.
Success followed with Barcelona (where he worked with the mercurial translator Jose Mourinho) and the Bayern Munich, where he built the foundations for Jupp Heynckes' stupendous Bayern. He will be looking to instill that kind of winning formula into the next great side he is going to engineer at Old Trafford.
His track record with youth is proven by Muller and Kroos's successes. His football is direct, offensive and very, very effective. His man-management skills are rough-and-tumble, and despite sometimes alienating his players, he always brings out the best in them. And he knows it.
The fact that he is such a headstrong, confident manager who backs up his words with his titles should definitely be a welcome echo to the Sir Alex Ferguson years. They seem so far away now!
He will try to improve their ridiculous home record and make Old Trafford the fortress it once was again. He will tell his players to keep hold of the ball more, but with the kind of constructive, incisive possession that was on display during Ryan Giggs' first match in charge of United. They were able to cut relegated Norwich to ribbons, and Juan Mata and Wayne Rooney both shone.
He will also be much more frank with his players, and he will not tolerate anything like the kind of football they served up under David Moyes. However refuses to espouse his philosophy will be benched, and they won't dare cross him again.
Of course, one can't forget that as good as he is, he is not the perfect manager for United. He is simply doing a reconstruction job, and it doesn't seem like he will be one for the long-term future. He will get United back on their feet, and he will do it very well, but he won't stay for very long either.
And even that won't be an easy job, for despite Moyes' mistakes, he was absolutely spot-on in his scathing criticism of his players; United lack world-class players. The days when Ferguson got by without proper midfielders are over, and Fellaini disappointed greatly.
Van Gaal will issue a rallying call to his players to win, though, and he most surely will!
1 Relay