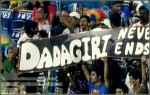 Text
Flag as inappropriate
Cat-fight, Gayle storm and fantasy league worries!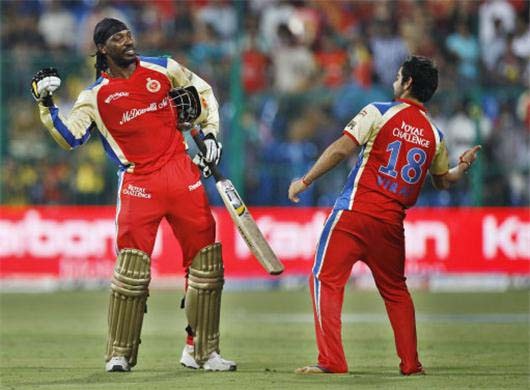 What Thursday's clash between RCB and KKR proved was you can have a Delhi guy play for Bangalore or Kolkata, but their conduct would remain as aggressive as it gets, typical of the national capital. Of course the reference here is to the spat between Gautam Gambhir and Virat Kohli.
The two nearly came to blows. It took the calm and sensible Rajat Bhatia, also from Delhi, to stop the fight between his two state mates, which could have potentially snowballed into another Sreesanth-Bhajji type incident. Bhatia, who is more a product of Chennai's cricket culture given he grew up at the MRF Pace Academy, did perhaps what none of the others, who were actually celebrating the wicket did.
But by the time that happened, even a die-hard KKR fan knew the game was as good as gone, with Kohli playing a fine knock before perishing. That was the talking point in the stands for the remainder of the game. But before that, there was a lot to cherish. Some good cricket being cheered, people in the stands dancing to music and of course the social circles of Bangalore having a good time over drinks in the Royal Challenge lounge.
Across the entire stadium, there was just one word. Gayle storm and as that storm blew over the ground, quickly the topic changed towards the fantasy league. Those who had Gayle in their team had reasons to dance, and those who had him as captain were grinning from ear-to-ear. Those, who didn't pick him after his failures in the last two matches, were left licking their wounds. Perhaps, they had to be reminded of what we call the Murphy's laws.
Anyway, coming back to the game, Yusuf Pathan, someone who went for close to 2 million dollars in the auction 2 years ago, is yet to justify even one fourth the money spent on him. He has spent a large part of the last two seasons being talked about as a big hitter of the ball. Those big hits on most occasions have landed in the fielder's hands. That impression was perhaps destined to change, but he once again flattered to deceive.
In the owner's dugout was a young fan, an Ireland fan, cheering for Eoin Morgan, who happened to be his neighbour. For him, it didn't matter which team wins or loses. For most parts of the game, he was hooked to Temple Run on his phone, but the moment Morgan came out to bat, in went the phone and out came the binoculars, trying to get a clear-cut view of what was happening in the middle.
Of course the Morgan magic didn't last long and the young boy, who came to the ground with his parents, went back to playing on his phone. But for others, it was Gayle's treat that set up their evening. Every time the crowd chanted 'We want six', Gayle was gracious enough to hit one, almost as if to say 'Here, take this and enjoy'. That was the level of authority he had on his game.
In for some special treatment was Ryan McLaren, who had anything but a memorable first game for KKR. There was no 'Chammak Challo' in the stands, for those who were in the lounge expected King Khan to be there. Unfortunately he wasn't, perhaps the only reason why they were in the arena. For we all know the Baadshah of Bollywood is known to bring his kids and their friends along.
All in all, it was an evening of fun, frolic, excitement and of course fantasy league!
0 Relays