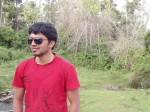 Link
Flag as inappropriate

www.foxsportsasia.com
Gareth Bale has rounded off a remarkable season by becoming the first player since Cristiano Ronaldo to do the double at the PFA Player of the Year awards.
Bharath Kumar has added a note -
Do you agree with Bale winning both the honours with PFA and YPFA awards?? Is PFA all about being a British Player??
0 Relays