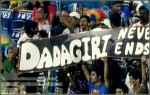 Link
Flag as inappropriate
www.sportpulse.net
He is a real romantic at heart. He loves his wife Cathy a lot and his "baby cradling" moves everytime he picks up a wicket or takes a catch has become quite a sensation this IPL. His first two children- Daan and Darjhan are always in his mind and he sits to video chat with his family each time he gets some free time. What more!
Dada Army has added a note -
Lovely article on Darren Sammy, the child in him and also his value to the Sunrisers Hyderabad side.
0 Relays