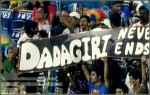 Link
Flag as inappropriate

timesofindia.indiatimes.com
RR's skipper Rahul Dravid says dealing with the turmoil caused by the spot-fixing scandal has turned out to be as tough as handling "bereavement in some ways".
Dada Army has added a note -
Dealing with the latest spot-fixing scandal was like dealing a death in the family or so, admits Rahul Dravid after they knocked Sunrisers Hyderabad out of IPL-6. Emotional, candid, honest.
0 Relays