Text
Flag as inappropriate
#Milkha Singh: The Flying Sikh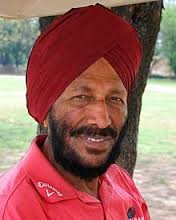 One of the most outstanding person in athletics of India is Milkha Singh. Due marvellous speed in running on tracks, Singh earns a nickname 'Flying Sikh' from Ayub Khan Pakistan's General after defeating Abdul Khaliq, Pakistan's faster runner in year 1962. Milkha Singh is a former Indian track and field sprinter who was introduced to the sport while serving in the Indian Army. As of 2013, he is the only Indian male athlete to win an
individual athletics gold medal at a Commonwealth Games.
1935 was year when this great athlete was born in undivided India's Western Punjab. He was orphaned during the Partition. Singh was persuaded by a brother, Malkhan, to attempt recruitment to the Indian Army. He successfully gained entrance on his fourth
attempt, in 1951, and while stationed at the Electrical Mechanical Engineering Centre in Secunderabad he was introduced to athletics. He had run the 10 km distance to and from
school as a child and was selected by the army for special training in athletics after finishing
sixth in a compulsory cross-country run for new recruits. Singh has acknowledged how the army introduced him to sport, saying that "I came from a remote village, I didn't know what running was, or the Olympics".
He represented India in the 200m and 400mcompetitions of the 1956 Melbourne Olympic Games. His inexperience meant that he did not progress from the heat stages but a
meeting with the eventual 400m champion at those Games, Charles Jenkins, both inspired him to greater things and provided him with information about training methods. In 1958, Singh set records for the 200m and 400m in the National Games of India, held at Cuttack, and also won gold medals in the same events at the Asian Games. He then won a gold medal in the 400m competition at the 1958 British Empire and Commonwealth Games with a time of 46.6 seconds. This latter achievement made him the first gold medalist at the Commonwealth Games from independent India.
Milkha Singh had been promoted from the rank of sepoy to junior commissioned officer in recognition of his successes in the 1958 Asian Games. He subsequently became Director of Sports in the Punjab Ministry of Education, from which post he had retired by 1998. Singh had been awarded the Padma Shri following his success in 1958.
All of Singh's medals have been donated to the nation. They were displayed at the Jawaharlal Nehru Stadium in New Delhi but later moved to a sports museum in Patiala.
Singh and his daughter, Sonia Sanwalka, co-wrote his autobiography, titled The Race of My Life. The book inspired Bhaag Milkha Bhaag, a 2013 biographical film of Singh's life.
At present, Milkha Singh is completely dedicated towards promotional activities for sports held in India.
0 Relays