Text
Flag as inappropriate
Thomas Vermaelen not the right man for Manchester United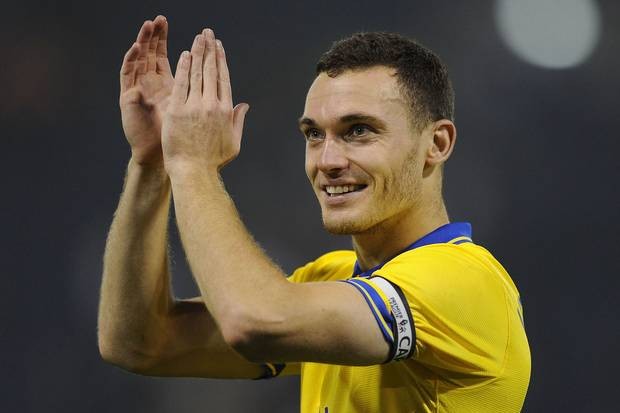 With Nemanja Vidić, Patrice Evra, and Rio Ferdinand departing from Manchester United this season, the club has lost a lot in terms of the experience. For years, the senior trio had been the pioneers of success for the team and to lose them all at once is a huge loss. The three of them have publicly asked the club to show faith in its young defenders but MUFC have been linked with a host of centre-backs this season including Mats Hummels, Stefan de Vrij, and most prominently Thomas Vermaelen.
Thomas Vermaelen is a Belgian International, also the captain of the Arsenal Football Club. He is known for his aerial ability and also scores at regular intervals. He was initially marred with a couple of injuries when he joined Arsenal and then his form dipped during the last couple of years. Although he is the Arsenal captain, he played only 14 league games last season. To land at Manchester United with such dismal form and record would be a dream for the centre-back. The only reason United might be interested in him is because of his experience, which the club lacks at the back.
Is Thomas Vermaelen really better than the current lot of Phil Jones, Jonny Evans, and Chris Smalling? Michael Keane also returned after a successful short loan spell at Blackburn Rovers and was named on the bench against the last league match against Hull City. Both Phil Jones and Chris Smalling featured in 20+ league games the previous season and needless to say, without Rio and Vidić, the defence was quite fragile. Jones didn't play as a centre-back as much as he played as a defensive midfielder but his performances were applauded by everyone. Chris Smalling played more number of matches as compared to the previous year but apart from a couple of good shows, he failed to make an impact. Jonny Evans didn't feature in as many matches as Jones or Smalling but he kept a balanced show throughout the season.
Inexperienced is this United defence but getting Vermaelen in the squad doesn't really fill the huge gap at the back. Vermaelen has played 300-odd club games, 70 more than what Jonny Evans has played throughout his career. Keeping this in mind, Vermaelen wouldn't even be a big value addition to the team. Giving opportunities and chances to the youngsters would help in building a concrete defence for a number of years. Bringing in Michael Keane now and then would give him confidence at the first-team level. Manchester United needs someone to guide these centre-backs and someone to lead from the front but Thomas Vermaelen with his injury woes and bad form surely would not be the one to resurrect the United defence. With someone like John Terry for Chelsea and Vincent Kompany for Manchester City, United need a Hummels or a Varane and not Thomas Vermaelen.
If United acquire him, chances are that Van Gaal would need to buy another centre-back soon enough. United fans would hope otherwise.
1 Relay