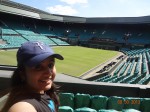 Text
Flag as inappropriate
The harbingers of Indian Cricket : Kohli and Pujara spiral down to the ordinary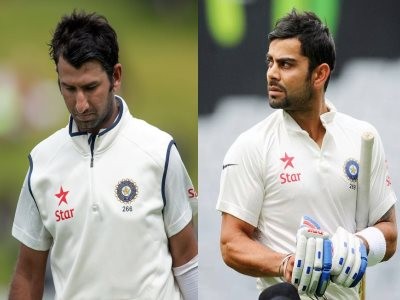 Being the best sure has its own share of disadvantages –successes catapult you to unreachable zeniths but failure pulls you right back down with such brute force that those successes start seeming distantly elusive.
Cheteshwar Pujara and Virat Kohli, once the "be all, end all" of the Indian cricket team are wallowing in inconsistency and poor form in the ongoing Investec Test Series. Pujara, oft-touted as the new-generation Rahul Dravid of Indian Cricket has failed to impress against a resurgent English side in four test matches so far. With a highest score of 55 in eight innings, Pujara has been struggling to regain his form which had started ebbing away since the New Zealand tour a couple of months back. Famous for his rock solid defense, Pujara has been caught niggling at out-swinging deliveries in this series, as if willing to tease the ball into the gloves of the wicket keeper. Captain M S Dhoni has throughout been undeterred in backing his most "reliable" cricketer. The Indian top order has been performing woefully, except in the first test match which has effectively pushed Pujara to face the new ball in almost every inning. He has also been at the receiving end of a poor LBW decision in the first innings of the fourth test match. However, these external factors still do not disguise Pujara's lack of application of technique, his tentative footwork and his affinity to play away from the body, which have been instrumental in his abysmal scoring pattern in this series.
Virat Kohli has been an even bigger disappointment. The poster boy of Indian Cricket, consistency and performance had become synonymous to Virat Kohli's name. With his stellar performance Down Under earlier this year and an equally impressive performance against the Proteas last year, Kohli was on his way of being compared to the likes of Sachin Tendulkar and Sir Vivian Richards. After an unsuccessful captaining stint at the Aisa Cup in March 2014, Kohli began to lose his golden touch. An ordinary IPL followed where Kohli was unable to make a mark with an average of a measly 27.14 in the entire season. Unfortunately, the slump in form has accompanied him to England. Kohli has failed to score beyond 39 in eight innings. In fact, he has managed to get past 10 only in 3 innings! There is a clear loss of confidence in his batting, even his famous on (and off) field swagger has suddenly vaporized. Kohli has edged the ball behind him six out of eight times in the current series, raising a serious question on his confidence. Similar to Pujara, he has been a victim of trying to play away from the body to swinging deliveries. All the amazing maturity he had displayed in fending off arguably the best bowling attack in the world in South Africa has been non-existent against England.
Both Kohli and Pujara are capable of overcoming this uncharacteristic slump in their level of game. Even though it is too late in the series for both these batting stalwarts to reinvent themselves, it is imperative that they pull their socks up and save the series for India.
0 Relays