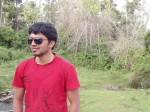 Text
Flag as inappropriate
RCB dig deep to win a thriller against Mumbai Indians….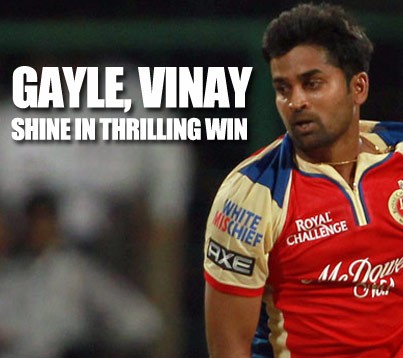 This is what IPL is all about. It was this sort of entertainment that was expected during the opening game in Kolkata but ended up in a stalemate. But, RCB opened their account with a win over Mumbai Indians in a thrilling match. Phew, it was that kind of a match where being a RCB fan at the ground or watching at their own comfort at home would have had their heart in their mouth. It was that close… a good hit by Kieron Pollard would have sealed Mumbai Indians victory but Vinay Kumar had other plans in the final over where he claimed 2 important wickets of Dinesh Karthik and Rayudu and restricted Pollard with a yorker for a well deserved RCB win at home.
An awe inspiring innings by Chris Gayle and great composure by Vinay Kumar in the end helped RCB win their first game against Mumbai Indians in Bangalore. They had never won against them here and even during the toss Virat mentioned saying we will try to change that and yes they changed it for sure. But, RCB batting still looks circumspect, if not Gayle then what. I don't see any plan B or plan C from RCB for that matter. It was the partnership between Gayle and Christian and then Gayle and Karthik which propelled RCB to 156/5. Though Chris Gayle was struggling initially with his leg stretched when he stood ground for Bhajji's attempted catch. Things pretty much changed after that where he started smashing the cricket ball to all parts of the ground. He literally limped his way to 92 runs.
Before that an unknown entity in Jasprit Bumrah who made his debut, claimed 3 wickets with his weird action early in the RCB innings to dent them pretty bad and Mitchell Johnson claimed Dilshan for a duck but Mumbai Indians failed to remove Gayle who scored the all important 92 runs to save RCB team who posted a good total on a wicket which had something for the fast bowlers.
On the other hand Mumbai Indians started their innings with the two legends of the game with Sachin Tendulkar and Ricky Ponting. It was a slow start but there were no wickets and they were going steady until the 7th over when there was a mix up and Sachin was run out. There was a time where Sachin looked at his vintage best when he took on Muralitharan in his first over where he scored two beautiful boundaries and a battle was on the cards before he was run out. It was a smart piece of bowling by Murali Karthik and wicket keeping by Arun Karthik to stump Ricky Ponting. In came Dinesh Karthik who steadied the ship for Mumbai Indians and Rohit Sharma continued his poor form in IPL as well. Dinesh Karthik and Ambati Rayudu looked like taking the game away from RCB but a good penultimate over from Unadkat and then the final over from Vinay Kumar proved to be decisive which helped RCB win by 2 runs.
Chris Gayle was adjudged Man of the Match for his towering innings of 92. But, I think there were two heroes in this game Gayle for obvious reasons and Vinay Kumar for his all important 3 wickets for just 27 runs. Except Daniel Christian rest all the bowlers were economical. Even Virat during presentation said it was an emotional game and praised Chris Gayle, Vinay Kumar and Unadkat for their excellent performance.
Chris Gayle also dismissed injury rumors and said that he will be fit for the next game and also hinted that he will change his style of play to help RCB post good total in the upcoming games. We are just into 2nd game of the IPL and already we had a nail biting finish. Expecting more such nail biting encounters in due course.
2 Relays